6 Sex Moves to End Sexual Boredom
6 Sex Moves to End Sexual Boredom in Relationships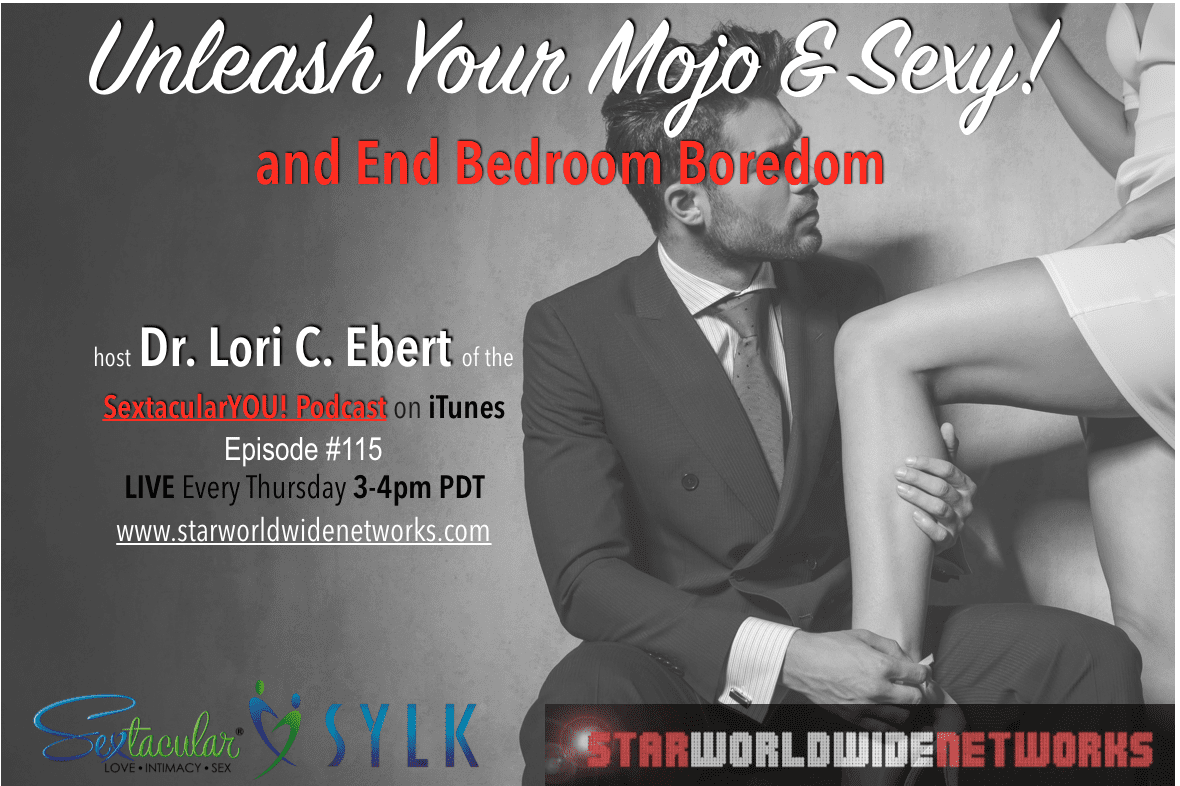 Falling in love is easy, but staying in love requires attention and nurturing the relationship.  The same is true for sex!  Couples often work on their relationship but not their sex lives.  The common belief is having more sex will solve everything.  That's a myth!  While it does help, it isn't the end-all-be-all to get rid of boredom in the bedroom.
A big cause of boredom in long-term relationships is when partners stop paying attention to each other.  They get in the routine of life, too comfortable and take each other for advantage.  With divorce rates around 45-50% in first time marriages, it's no surprise people are not putting in the necessary effort for passionate love and sex!  No matter what blog you follow, workshop you take or book you read; at the core women desire attention from men and men want affirmation from women.  When these needs aren't met partners get bored and sex falls off the radar!
While women still want more time and emotional attention from men, recent studies from two Canadian Universities show men underestimate how much women desire sex and women are more accurate in perceiving how much sex men want. Men, the ladies know you want more sex!  One problem is that men can't tell women want sex just as much or always know how to get more of it!
It all goes hand in hand and it's not hard to end bedroom boredom with a little time and effort.  Follow these simple, yet unique tips because they not only enhance the emotional connection women need, they stimulate the feel-good hormone oxytocin for both sexes, kicking up the desire for more sex altogether!
 Practice Eye Gazing
Buddhist, Hindu and ancient Sufi traditions believe that eye gazing or soul gazing is a sacred practice that deepens trust and intimacy, awakens the heart and sexual energy in partners which creates a path for divine union.
Science agrees when it comes to deliberate, unbroken eye gazing.  Researchers  Kellerman, Lewis, and Laird (1989) showed strangers or couples who looked in each others eyes for at least 2 minutes felt more affectionate, passionate love, dispositional love and liking their partner.  The power of eye contact makes partners more memorable, honest, persuasive, self aware, deepens attraction and helps people fall in love.  In the case of relationship and sexual boredom, it helps people feel love again.
TIP: Make effort on a daily basis to be 100% attentive to your partner with your attention and eye contact.   Take eye gazing "time outs" with each other and remember to smile.  Take it to an even higher level by adding psychologist Arthur Aron's 20 year-old technique that caused strangers to fall in love in a laboratory by asking these 36 intimate questions.  If you want the home run add the Yab Yum below.
 Do the Yab Yum Everyday
This tantric technique is highly effective at connecting partners emotionally, mentally and stimulating sexual desire.  To Yab Yum shower and stretch out then sit in front of each other and get comfortable.  You can sit cross-legged, knee-to-knee or if your flexible enough the woman can sit on top of the male partner with his legs crossed.  She faces him and wraps her legs around him.  If uncomfortable, the man can stretch out his legs.  The goal is to get the genital and heart erotic zones as close to each other as possible.
The eyes are the window of the soul – so gaze and look at each other for a long time.  It's ok to laugh, giggle and look away until you are practiced at unbroken eye gazing.  Even a minute is beneficial!  Once comfort and connection are established partners start to "merge" into one another, creating the special bond for tantric sex and the union of love that got them there in the first place.  Don't worry if you get hot and bothered, run with it – that's the whole purpose!
TIP:  Integrate Yab Yum into a daily ritual, either in the mornings or preferably at the end of the day.  Start with 3 minutes until you can work up to a solid 5-10 minutes.  With this practice the longer the better and the more it leads to juicy love the better!
Your Body Wonderland
The benefit and joy of long term relationship is having a partner available for sexual touch.  Too often kissing and touch are the first things to drop off in relationships.    Sexual touching releases oxytocin to prepare the genitals for intercourse, reduces stress, increase desire and quickens the heartbeat.  It's comforting because sexual touching is a gift of love and desire from another person, increasing connection, love, and excitement which brings partners closer together.
TIP:  Make the effort to touch your partner daily with 20-second hugs, intimate kissing or massages.  Heat it up a notch by creating secluded time and space to explore each others body as if you've just met them.  Touch each other and ask what feels good!  Set a time frame of 20-30 minutes for each partner and focus on just giving, then switch.  BONUS:  Make it more fun and slippery by using coconut oil.  Or if you don't want to soil the sheets sex expert Dr. Lori C. Ebert of Sextacular® recommends using SYLK an all natural lubricant that is water-based, odorless and tasteless.  The best part is you're ready for some naughty and it can be refreshed with water – try warm water with your mouth or ice for a titillating surprise!
 Play Up Creative Fantasies 
It's no secret women always want more foreplay, that's a no-brainer when it comes to ending sexual boredom in relationships.  However, in today's climate of Fifty-Shades of Grey how can you heat it up?
A recent Lifestyles survey show women like getting creative and 83% are open to role-playing, 81% are open to using sex toys and 75% are open to watching porn with their partners.  Don't let sexual inhibitions stop you, both sexes can take advantage of this!
TIP:  Make a sex jar.  Each partner writes out six fantasies they want to try so there are 12 total or one for each month.  Don't hesitate to increase this to weekly or add some extra's like "Surprise me!"  "Anything outside."  And don't be afraid to ask your lady to be a naughty-librarian, sexy-nurse, or even a high-class call girl.  Ladies, ask him to be your massage therapist, pool guy or billionaire CEO in a suit.  The only rule is to agree that if a fantasy exceeds a partners comfort level, it can be negotiated until both partners are comfortable.  BONUS:  Add $20+ dollars to the jar every time you play out a fantasy.  By the end of the year you'll have enough for a nice dinner, overnighter or if you really go for it – a vacation!
Mash Up Your Missionary 
The missionary sex position still remains in the top three positions men and women prefer, rating higher for women than men.  Which is surprising considering less than 15-25% of women orgasm in this position.  It just goes to show how emotional closeness and connection can supersede orgasm for women.  Get the best of both worlds by practicing the CAT or "coital alignment technique".
The coital alignment technique was introduced by Edward Eichel back in 1988 when he claimed it helps women achieve orgasms during the missionary-position in sex.  It's surprisingly simple, the man only needs to shift himself forward so his chest is closer to one of her shoulders instead of lying directly on top of her chest-to-chest.  When a man is directly on top his penis moves more or less horizontally.  In CAT, the man rides higher on the woman's pelvis, moves more up and down and the bony base of his penis makes more contact with the woman's clitoris.  This direct clitoral stimulation is the secret to orgasm in this position!
TIP:  Work up to this with eye gazing, a little Yab-Yum or the body wonderland massages!  Ladies guide your lover to your shoulder using your sexy voice and by telling him how good he is making you feel.  Once he hits your sweet spot, reinforce your message with cooing, moans and affirmations and he'll program it in his brain to hit every time!
 Master Doggy Style
While women rank the missionary sex position highest, men rank doggy-style sex as their number one preferred position.  Sexperts at Pornhub researched and found 43% prefer doggy style and 27% prefer reverse cowgirl – woman on top of man but facing away from him.
It's not hard to understand if you understand how a man's brain works.  It's all about the view – he gets to see it and play with it all in both positions – with deeper penetration.  This intensity elevates his primal desire so of course men enjoy it more and so will women!  Studies published in the journal Spine also show this is the best sex position for men with back pain.
TIP:  It's easy to end the boredom in doggy style sex!  Wear a skirt and skip the strip.  Rip your panties to the side, pull up her dress or tear down her pants.  Make sure you use your hand or a toy to stimulate the clitoris and don't forget nipple play!  Add a lot of dirty talk, moaning, and grunting because you can't see each other any way.  If you want a little more intimacy you can do it in front of a mirror or add pillows.  The woman simple props herself up on a mound of pillows for a soft foundation giving the man a great angle from behind.  BONUS:  Take it all outside!
Learn more Sextacular® tips on how to "Make Love to Life©!" from sexpert Dr. Lori C. Ebert at www.DrLoriEbert.com her Sextacular®YOU! Podcast on iTunes and watch her TEDx Talk "How Orgasm Makes World Peace Possible"
Save